Spinning Flagpole Assembly - How To Guide | All Star Flags
Spinning Flagpole Assembly Guide
Our 6' spinning flagpoles are a great way to display your American Flag. These flagpoles are the most popular selection for both residential display of the US flag as well as for businesses who display the flag with a wall mounted pole. The poles are also widely used by real estate agents who fly model, open house and other assorted message flags commonly from homes they have listed. These unique flagpoles utilize ball bearings in the center of the pole that allows them to spin keeping your flag from becoming tangled and furled. Spinning flagpoles are available as either a kit with a 3x5' American flag and bracket, but are also sold separately. They are available in three finishes: white, silver or wood grain veneer. Learn how to assemble one of our spinning flagpoles and how to attach a flag to a pole below.
Begin assembling the flagpole by joining the top and bottom sections together by inserting the male threads on the top pole section into the female threads on the bottom pole section and twist to tighten. As the two sections begin to tighten, hold the lower most portion of the top section (just above the threads) with your hand or a pair of pliers and completely tighten the bottom section until the two sections are flush.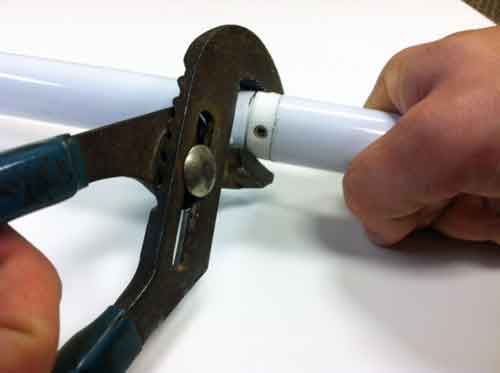 To fly a traditional style flag that has a canvas header and brass grommets: attach the flag to the pole using the supplied flag fasteners. Remove the screw portion of the flag fastener from the ring with your hand. Align the top grommet hole in the flag with the hole in the flag fastener ring and reinsert the screw into the flag fastener ring and tighten. Repeat the process for the bottom grommet as well. For this application you will not be using the metal clip at the top of the spinning flagpole, just beneath the decorative finial.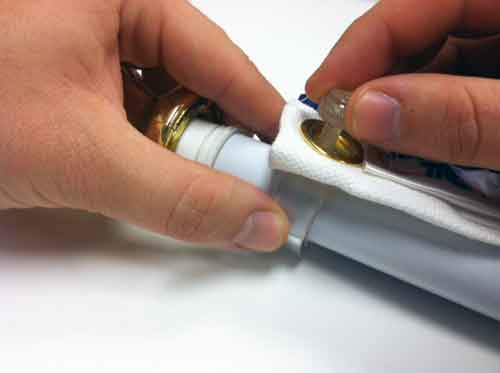 If you are attaching a banner style flag with a pole sleeve, omit the flag fasteners. Slide the bottom of the flagpole through the sleeve of the flag. Banner style flags with have a tab sewn into the pole sleeve with a slit in the tab. Clip the metal hook at the top of the of the pole through the opening in the tab and your flag is secure.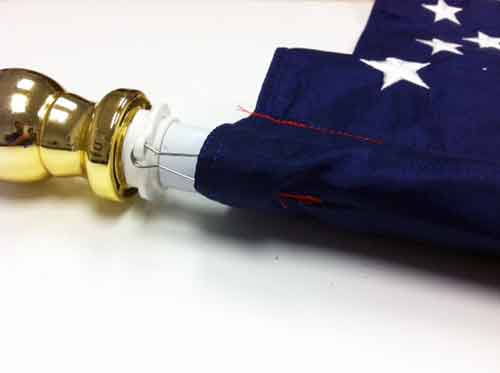 Your spinning flagpole is now ready for display. Insert the flagpole into your mounted flag bracket and enjoy.
Notes:
The 6' spinning flagpole is intended to fly flags up to 3' x 5' in size. Flying flags larger than 3' x 5' from these rotating flag poles will eliminate the spinning feature.
Related Products:
American Flag with Pole Sleeve
By Chad Creech, All Star Flags