Unique Flags | Interesting Flags of the World | All Star Flags

Unique Flags to Help Show Your Pride
History presents an array of displayed flags, used to show victory in war, distress at sea, national patriotism, organizational affiliation, and community awareness and advocacy. Flags offer a unique opportunity to promote beliefs and ideals, and fly as symbols of movements in which people strongly believe. Today, the viewpoints and values represented by our society are as diverse and unique as ever, and with that comes a widened availability of flag selection. Flags are available for almost every cause, and understanding the back-story of each flag can only help to strengthen our nation's understanding, acceptance and harmonious coexistence.
A Short History of Flag-Flying
For more than 4,000 years, flags have been flown for a variety of reasons, and the rules and regulations for each type of flag are as diverse as the organizations and ideals in which they represent. Standards regarding size and shape as well as display and storage methods can go to farthest extreme of strictness, and care should be taken to gain full awareness of these standards before flying a flag. Acknowledgement should also be given to the symbols and colors in flags; as each element in a flag holds its own significant meaning.
The first type of flag ever created was called a Vexilloid. Vexillologist Dr. Whitney Smith coined the term vexillology in 1957. Derived from Vexilloid, the Latin word vexillum meant flag(s). This was paired with the Latin term logia, or study, to create the word Vexillology, the Study of Flags. Primitive flags were poles made of metal or wood, and it wasn't until 2,000 years later that fabric and other flexible materials were added, creating the modern version of the 'flying flag.' The modern world presents a myriad of unique flags being flown, with every country and state finding representation, as well as most organizations, movements and beliefs.
Unique Flags for Every Cause
Honor and Remember Flag
From the first instances of war in America, more than one million American soldiers have given their lives in battle, and many families find comfort in representing their loved one's ultimate sacrifice by flying a flag of honor and remembrance. Continuing to honor the bravery and sacrifice of soldiers is critical to America's morale and patriotism. The Honor and Remember flag can fly continuously as a visible reminder of the lives lost in defense of our freedoms, and a portion of the money from the sale of all Honor and Remember Flags is given to the Honor and Remember Organization.
Pink Ribbon Awareness Flag
Every October, millions of Americans participate in Pink Ribbon activities around the country. The Susan G. Komen Walk for the Cure, along with hundreds of other charity events, work to raise funding and build awareness towards finding a cure for breast cancer. Every year, about 232,340 new cases of invasive breast cancer are diagnosed in the United States, and there are about 39,620 deaths from the disease annually.
In fact, the chance of a woman being diagnosed with breast cancer in her lifetime is 1 in 8, and these staggering statistics can only be improved with raised awareness for early detection. Survivors of the disease and family members who have lost loved ones can show their support and advocacy by flying a Pink Ribbon Awareness Flag, not only during October (Breast Cancer Awareness Month), but all year long.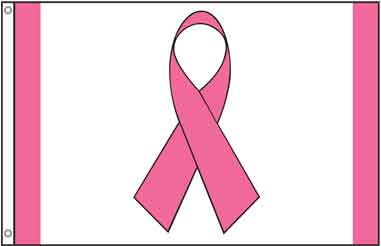 Yellow Ribbon Awareness Flag
Similar to flags that serve as honor and remembrance of the brave soldiers who have given their lives, a yellow ribbon stands as a proud reminder of troops that are overseas, currently fighting in war, and is typically flown by the friends and families of active soldiers.
A recent official figure released by the Pentagon showed that 1.4 million American soldiers are currently serving their country around the globe, and regardless of political opinion on war, each soldier's life and dedication to our country's freedom should be recognized and appreciated. Just as the old song "Tie a Yellow Ribbon" showed ongoing thoughts for soldiers at war, the modern Yellow Ribbon Awareness Flag can show your support for those putting their lives in harm's way to protect our freedoms.
Teal Ribbon Awareness Flag
Just as a pink ribbon shows advocacy for breast cancer awareness, the symbol of the teal flag is used to promote awareness for ovarian, cervical and uterine cancers. Around 22,240 cases of ovarian cancer, 49,560 cases of uterine cancer, and 12,340 cases of cervical cancer will be diagnosed in the United States alone.
Teal ribbons show not only support for survivors and those battling the diseases, but they also serve as a powerful reminder for early screening and detection to help save lives. Flying a Teal Ribbon Awareness Flag represents a strong symbol of your support and advocacy for these types of cancers.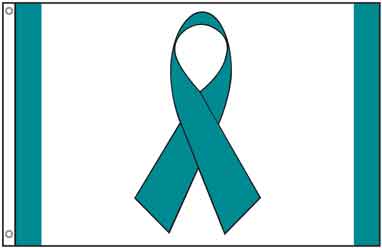 Marriage Equality Flag
The issue of marriage equality in America is currently a hot button issue. For strong advocates, taking advantage of opportunities to show support is one step further toward true equality for all in choosing who to marry.
Currently, fifteen states have marriage equality freedom, including California, Connecticut, Delaware, Hawaii, Iowa, Maine, Maryland, Minnesota, New Hampshire, New Jersey, New York, Rhode Island, Vermont and Washington, plus Washington, D.C., and several others offer broad protections short of marriage, such as civil unions or domestic partnerships. Showing support with a Marriage Equality Flag is a great way to take a stand for equality for all.
Political Party Flags
Regardless of political affiliation, showing support is an excellent way to share not only your views, but also a sense of involvement in the future of American government. In election years, flying your party's flag can serve as an announcement of your voting preference, as well as a reminder for others to stand and take part in the electoral process. Whether Republican or Democrat, a political flag is a wonderful way to make your party's voice heard. Other flags are also used to make political statements. Over the last four to five years the Gadsden Flag has become the symbol of many who are with the Tea Party Movement.
Heritage Flags
American is a melting pot of cultures and heritages, a land formed from immigration and made stronger by cultural differences. Whether flying a flag from your home state or your home country, heritage flags stand as a colorful reminder of your history, culture and beliefs. France, Ireland, Italy, Mexico and many more country's flags are available, making it easy to show your pride in your heritage.
Service Flags
Whether you or your loved ones serve as emergency responders, on a police force or as a firefighter, showing support for their dangerous and brave jobs is easily accomplished with a flag. Many people fail to realize the true dedication given by men and women who serve their communities in these types of jobs, and whether you are honoring their everyday bravery or those who have been lost in service, flags can help you show appreciation for policemen and women, firefighters and EMS workers who are first to respond in emergency situations.
America is a country rich in diversity and purpose, and showing pride for the causes and people you believe in can be visible to the world with the flying of a flag.
Whatever your cause, show your pride today with a flag from All Star Flags. Flags are available for every state and country, celebrated holidays, and for most causes you want to champion, as well as custom flags for every occasion. In addition to flags, All Star Flags also has all the supplies you need to properly display and care for your treasured flags.
By Chad Creech, All Star Flags