Quality Chemical Laboratories Case Study | All Star Flags
QCL Case Study:

Promoting Your Corporate Image: "Who are we?" "What do we want to accomplish?"
Corporate identity is the overall image of a company in the minds of its customers, investors, and employees. It is crucial for a business to maintain its corporate image in order to help the business grow and meet its objectives. Corporate identity helps to answer questions such as who are we and where are we going, and helps your customers, employees and investors identify with your company.
A company's corporate brand is represented by far more than just a logo or graphic. Branding represents the people behind the business as well as the company's overall mission. In the case of Quality Chemical Laboratories, that mission is to "raise the bar for the industry" and to maintain a steadfast commitment to quality. By fully applying their corporate brand to their new facility, Quality Chemical Labs has been able to convey to their clients that they are in fact striving to raise the bar for their industry.
Quality Chemical Laboratories recently turned to All Star Flags for help in branding their new Wilmington, NC facility. All Star Flags was up to the challenge and used a custom crafted mix of products and services to help carry the QCL brand throughout the new facility. The new building they acquired already featured a nautical style, 30' flagpole with yardarm. We assisted QCL in upfitting the existing flagpole with new flagpole halyard and snaphooks. We installed a new American Flag, North Carolina State Flag and we supplemented those with a custom logo flag featuring the QCL name and logo. The flagpole fronts a major interstate in Wilmington and offers great exposure for the company. Now thousands of vehicles each day see the beautiful American & State Flag as well as the vibrant custom flag featuring the QCL logo.
All Star Flags also recommended a custom entry mat that would be the first thing customers and employees see when entering the facility. We reversed out the colors in their logo to get a dark (black) background and then produced a custom logo floor mat.
We wanted to supplement the custom entrance mat with something else that would create a dramatic entry way. All Star Flags created a set of custom routed channel style lettering and logo and we installed them on the front face of the receptionist's desk.
The next product attacked both a branding and safety issue. Within the office, they had a clear glass stationary panel that was easily mistaken for a door. We designed and installed custom vinyl lettering on the glass panel to help make it more visible by utilizing the logo rather than simple 'do not enter' text. This simple and clever solution helped reinforce the brand within the facility while adding a safety feature for employees moving around the building throughout the day.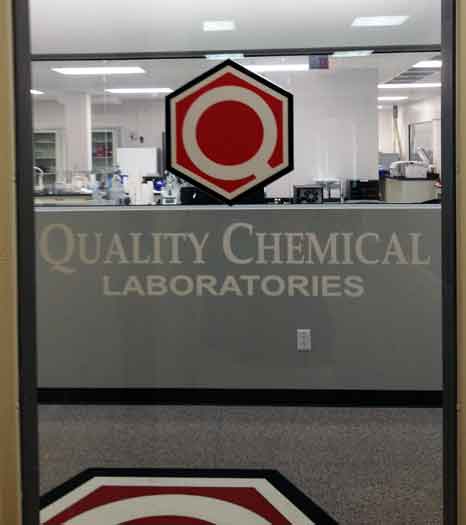 All Star Flags was pleased to partner with Quality Chemical Laboratories in branding their new facility. We were able to create valuable and prominent brand exposure to thousands of drivers with the flagpole upfit and installation of the new American Flag, North Carolina Flag and Custom QCL Flag. Then we dressed up the entry to the facility with the custom entrance mat and lobby desk lettering. Finally we were able to reinforce the brand with interior decals that were both attractive and functional.
Let us know if you have any needs for refreshed branding efforts. All Star Flags...Quality in Every Star!
By Chad Creech, All Star Flags