Nautical Flag History: Nautical Flag Meanings & International Signals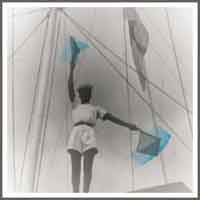 The History Behind Nautical Flags
Nautical flags were originally used for communications among comrades during military entanglements. What started as a limited communication system evolved over centuries into a comprehensive, internationally-recognized signaling system functional for military and non-military purposes. Recreational vessels also use nautical ship flags as well as code signal flags to identify themselves and to communicate with other ships.
The Originating Uses for Nautical Flags
Nautical flags are an internationally-recognized means of communication from ship to ship while out at sea. Code signal flags can be used alone or in combination with one another to send messages while nautical boating flags share other information about a vessel such as where it is from and its purpose for being on the water.
The Military History of Code Signal Flags
Code signal flags are used in an internationally-understood system comprised of 26 square code-letter flags for each letter of the alphabet (A-Z); there are also ten numeral pennants, one answering pennant, and three repeaters. Code signal color flag combinations are red and white; blue and yellow; blue and white; black and white; and plain red –colors that can easily be seen at sea.
Nautical flags were originally used in ancient military encounters where flags signaled other fleet members to take specific actions. Early flag communications were limited; the primary use was to signal the need for a conference where more detailed instruction could then be provided.
In the mid-1700s, more elaborate signals were developed during Anglo-Dutch naval wars, which resulted in the Royal Navy's Permanent Fighting Instructions comprising 45 mixed messages using 11 flags.
In 1738, Mahé de la Bourdonniase, a French officer, developed the first numerical flag code, which served as the basis for later flag-hoist signaling. The numbering system vastly increased the combinations of communications a ship could make to 1,000 using three flags.
Richard Earl Howe, First Lord of the Admiralty in 1783, contributed by revising the French system to include repeater pennants as well as control flags. These modifications led to the 1799 Signal Book for Ships of War, which broadcasted use of individual flag designs that were used by the Royal Navy through the Napoleonic Wars and War of 1912.
The system expanded further with Popham's Telegraphic Signals or Marine Vocabulary to include 6,000 phrases and 60,000 words.
The United States first numerical code system, Instructions, Signals, and Explanations Ordered for the United States Fleet, was published in 1797.
The first commercial book of signals, Code of Signals for the Merchant Service, was published in 1817 by Captain Frederick Marryat of the Royal Navy.
J.R. Parker's American Signal Book for the Use of Vessels Employed in the United States Naval, Revenue, and Merchant Service was created for government use in non-tactical communications.
Parker revised the signal book until 1856, as technological advances had rendered such a signal system obsolete. The British Board of Trade then began creating an improved code, which would come to be known as the International Code of Signals.
A Brief Background of International Code Signals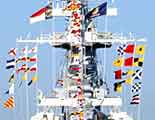 The International Code Signals (ICS) thus evolved:
The first International Code, which was drafted in 1855 and published in 1857 by a British Board of Trade, contained 70,000 signals, 17,000 messages, and used 18 flags.
Subsequent revisions were made to the Code during the International Radiotelegraph Conference of Madrid in 1932 where six more flags were added for different languages including French, Italian, German, Japanese, Norwegian, and Spanish. In 1947, it was determined that the Inter-Governmental Maritime Consultative Organization (IMO) should have responsibility over the Code.
In 1969, more flags were added to accommodate the Greek and Russian languages, and each alpha-numeric signal flag was assigned meaning under the International Code.
Using Code Signal Flags
The number of flags used in messaging changes the meaning of the message.
One-flag indicates an urgent or common signal. For example:

B stands for Bravo and means, "I am taking in, discharging, or carrying dangerous cargo."
G stands for Golf and means, "I require a pilot."
O stands for Oscar and means, "Man overboard."

Two-flag signals are used for distress or maneuvering. For example:

BR means, "I need a helicopter."
PP means, "Keep well clear of me."
ZL means, "Your signal has been received but not understood."

Three-flag signals are used for compass points, standard times, verbs, punctuation, and general code and decode signals.
Four-flag signals are used for names of ships, geographical signals, and bearings.
Five-flag signals pertain to time and position.
Six-flag signals indicate direction in latitude and longitude signals.
Seven-flag signals are used for longitude signals that are over one hundred degrees.
Some letters have different meanings depending if they are used in an international, Navy, or Sailing Regatta context. So, for example, when communicating with allies, Navy signals are used; otherwise, the International Code of Signals is used.
Nautical Boating Flags
Flags are also used to identify a vessel. The three flags traditionally used are:
The national ensign (country)
The yacht club burgee (fleet)
A private signal (master)
These are used primarily on recreational vessels. Some boaters are criticized for using flags too recreationally as flags should only be used to send a message about the boat such as:
Nationality
Maneuvering situation
Club affiliation
Office held
Identification Flags
The preferred United States national ensign is a "50-star" or "Old Glory" flag. The ensign is used to represent the country of the vessel's registry. In domestic waters, some vessels prefer to fly the following:
U.S. Yacht Ensign: Features a blue canton with 13 white stars surrounding an anchor atop horizontal red and white stripes.
U.S. Power Squadron Ensign: A red canton with 13 white stars surrounding an anchor atop vertical white and blue stripes. This flag can be flown on boats with the U.S. Coast Guard Auxiliary Ensign (a blue ensign) to indicate the owner is affiliated with both the U.S. and the Coast Guard.
Warning Flags
Other flags used on recreation vessels are intended to serve as warning to other vessels:
Hurricane Warning Flag announces that sustained winds of 74 mph or higher are expected within the coastal area.
Skin Diver Down River Flag is legally required to be used by divers to indicate their activities and diving area.
Fun & Fish Flags
Some flags are used to serve a more decorative purpose. For example, the Jolly Roger, or pirate flag, famously features a skull and crossbones on black canvas. Originally used to indicate no mercy when taking over ships, many who fly a Jolly Roger do so for sport, though only in domestic waters. Other fun, novelty flags include:
19th Hole Fun Flag
Beer Fun Flag
Cocktail Fun Flag
Coffee Time Fun Flag
Tuna Nautical Fish Flag
Shark Fish Flag
Striped Bass Fish Flag
Albacore Fish Flag
Nautical flags can be used for all sorts of maritime adventure. Though their uses in high-speed communication may have been usurped by modern technology, their importance in sending messages to other vessels remains ever-present. Not only are nautical flags useful for necessary communications for boaters of all purposes, they can also be for fun and self-expression.
All Star Flags is a high-quality family-run business that specializes in the sale and production of flags and flag accessories including flagpoles, banners, pennants, and more. In addition to distributing U.S., International, State, and Military flag, All Star Flags also carries a large variety of Nautical Flags. All Star Flags' Nautical Flags inventory includes Code Signal flags (letters A through Z) and a fun assortment of interesting nautical boating flags such as the U.S. Union Jack, the Jolly Roger, the U.S. Power Squadron, and Skin Diver Down. In business for more than 30 years, no one knows flags better than All Star Flags.
By Chad Creech, All Star Flags